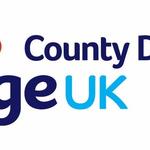 To promote the well-being of all older people and to help make later life a fulfilling and enjoyable experience

ABOUT US:
Age UK County Durham is a local independent charity with 21 staff members. We help over 5000 local older people every year, offering activities, events, befriending and information. We are the principal voluntary organisation working for older people, their families and carers throughout County Durham. We aim to address the causes of difficulties faced by older people and to provide help and support where needed. An important part of our work is campaigning to change policies and attitudes, which adversely affect older people. We are governed by our Board of Trustees who are all volunteers and led by our Chief Executive who all work tirelessly to ensure that older people living in County Durham have access to services, information and advice to ensure their wellbeing.
WHY OUR WORK MATTERS:
Age UK County Durham responds efficiently and effectively to the demands of an aging population and shares the vision of maintaining connected and supportive communities, independent lives and improved mental and physical health
OUR VALUES:
Integrity – we will do what we say we will do. Caring - we act with understanding, sensitivity and respect in our dealings with older people and with each other. Effective – we make good use of scarce resources to achieve our purpose to make a positive difference in the lives of older people. Enabling – we help older people to achieve for themselves what they want in their lives. Influencing – we recognise that the interests and needs of older people are complex and diverse. Innovative – we strive to identify new and changing needs and to look for novel and creative ways of addressing them
OUR AWARDS:
Investors In People, Advice Quality Standard, ISO 9001
THINGS WE ARE PROUD OF:
Age UK County Durham are proud to have achieved the Age UK Charity Quality Standard (CQS) which recognises the high standard of our performance as an organisation. The CQS is externally assessed by quality assessment experts, SGS. Quality Standards for local Age UKs in England. It certifies that we are a well-governed and effective organisation committed to the wellbeing of older people, our staff and volunteers and to working in partnership with others
WHAT WE LOOK FOR IN OUR PEOPLE:
Motivation, expertise, efficiency and courtesy. If we are to be a leader in the voluntary sector, it will only happen through the staff and volunteers, working together as a team.
HOW WE ARE DIFFERENT:
Age UK County Durham is an immensely professional organisation that continually places the needs and aspirations of its clients at the centre of all its service development. We believe that volunteers provide an additional, complimentary and enriching role with us. Age UK County Durham recognises the skills, enthusiasm, knowledge and experience of volunteers. We provide an opportunity for people of all ages to work together.
Our Opportunities
HELP AT HOME VOLUNTEERS
Min. 0 Weeks Minimum weeks