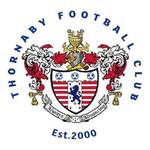 Thornaby Ladies and Girls FC
A community club which offers free tickets to all local school children and their families. We're passionate about being the best we can be on and off the pitch, however people are at the forefront of everything we do. Made up of volunteers working together to build a family group based around sport.

ABOUT US:
We are a Ladies Football team and apart of Thornaby Football Club. Our ambition is to the grow organically through volunteer team work and developing a succesful football team within the Ladies game. Thornaby Ladies is a long term project based around our Ladies Football team and the local community. We play at Teesdale Park Stadium in Thornaby on a Sunday with an average attendance of around 100 people. 
WHY OUR WORK MATTERS:
Without the commited support of volunteers this team and club could not function. All volunteers within our club are treated as family, all working for one great cause in a sport. We have numerous people who have worked with us from Teesside Uni who have stayed on following their original time with us. 
OUR VALUES:
Team Work
Partnership
Sronger Together
Commitment
THINGS WE ARE PROUD OF:
Give free season tickets to every local school for their students & families
We all volunteer at Thornaby Ladies
Everyone gets tea, coffee and as many energy drinks as they can drink
We have a team which can compete much higher than we currently are
WHAT WE LOOK FOR IN OUR PEOPLE:
We're looking for people who are keen to support a fun project with lots of different areas. People who are happy to commit their time alongside others for experience in something they enjoy or simply because they want to be part of a community group. 
HOW WE ARE DIFFERENT:
As a club we're extremely ambitious, apart of how we stand apart from others is the way we treat everyone the same - player, coaches, volunteers, supporters, chairman etc.. we're all the same and play our part. We want to help eachother enjoy out experience at Thornaby.