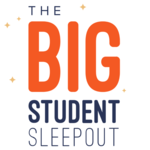 Leaders of the future - give up your warm beds for one night for someone who doesn't have one. This is your chance to take a stand against poverty and homelessness. Join us on 7th December to sleep out at Teesside University, and raise much-needed funds to help some of the most vulnerable people in Teesside.

ABOUT US:
The Big Student Sleepout is a movement started by national charity CEO Sleepout. We are bringing compassionate student leaders of the future together for one night to stand in solidarity with those less fortunate, and those locked into poverty and destitution. Help us to help some amazing charities doing incredible work helping people who are homeless, at risk of becoming homeless or those in poverty to get their lives back on track.
WHY OUR WORK MATTERS:
The Big Student Sleepout will raise vital funds that make such a big difference to charities working hard with Teesside's most vulnerable people and families. We hope that you will get involved, and with the generosity of your friends and family you can each aim to raise £200. Together we can make a significant difference to somebody's life!This will be the very first Big Student Sleepout in the UK - let's set a standard for others!
OUR VALUES:
Compassion, solidarity, leadership, empowerment, collaboration, resourcefulness
THINGS WE ARE PROUD OF:
Raising 1.9million to date from CEO Sleepout events, to support charities working with homeless people and those in poverty right across the UK.
WHAT WE LOOK FOR IN OUR PEOPLE:
Leadership, compassion, a sense of adventure, willingness to fundraise hard for an amazing cause!
HOW WE ARE DIFFERENT:
We are holding the very first Big Student Sleepout in the UK - right her at Teesside University. Let's set the standard for the whole of the UK when it comes to our fundraising achievement!