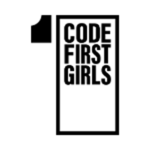 Code First Girls is dedicated to transforming tech by providing the skills, space and inspiration for women to become developers and future leaders. We are on a mission to help women rewrite their future. Through the power of community, change can and will happen.

ABOUT US:
Code First Girls launched in 2015, with a mission to transform technology through educational opportunity. So far, we have taught in excess of 20k women how to code for free and have connected them with 50+ top employers.We are a not-for-profit social enterprise that trains female and non-binary individuals in digital and tech skills and helps companies to develop more diverse recruitment policies and strategies. We offer free coding and programming education to current students. Our active community of coders, trainers and coaches is one of the largest in the UK, facilitating women to break into and excel within the tech industry.Code First Girls operates 91 training centres in 38 cities and towns across the UK and Ireland. We partner with 50 universities and various private enterprises and community centres to host our courses, adding over a thousand creative, hard-working, and technically skilled women to our community every month.
WHY OUR WORK MATTERS:
We are here to give women the tools, skills and most importantly the space to be the creators of our future technology - tools, skills and space that we think are not currently offered in the technology landscape.
THINGS WE ARE PROUD OF:
20 K+ Community§50 + Company Partners§50 + Active University Programmes§53 % BAME Membership
Our Opportunities
Coding instructor with Code First Girls!
Min. 8 Weeks Minimum weeks

Coding instructor with Code First Girls!