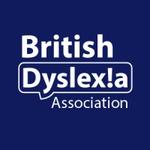 British Dyslexia Association
Our Mission • Campaign and lobby for long-lasting and sustainable change for the benefit of dyslexic people. • Provide impartial and objective advice and support to dyslexic people and those with whom they come into contact. • Set the standards for and accredit dyslexia knowledge and professional expertise. • Deliver innovative solutions which break new ground in the field of dyslexia. • Disseminate and share best practice regionally, nationally and internationally. • Promote research.

ABOUT US:
The British Dyslexia Association (BDA) has been the voice of dyslexic people since 1972. We are a membership organisation working to achieve a dyslexia-friendly society for all.
WHY OUR WORK MATTERS:
We are the voice of dyslexic people of all ages in the UK.
The British Dyslexia Association promotes early identification of specific learning difficulties (SpLD) and support in schools to ensure opportunity to learn for dyslexic learners.
As an umbrella organisation, the British Dyslexia Association want dyslexic people to view the British Dyslexia Association as the organisation that best represents them. So the work of the British Dyslexia Association aims to reflect the values that dyslexic people hold dear.
We will listen to, and act upon, the needs of dyslexic people whenever we are able. We will foster a feeling of togetherness for all of our membership and respect for dyslexic people, volunteers and staff.