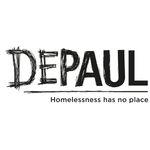 Depaul UK (Nightstop & Positive Pathways)
Our Mission is to end homelessness and change the lives of those affected by it.

ABOUT US:
Depaul UK is one of the biggest homelessness charities in the UK, for more than 30 years we've worked alongside people facing homelessness. We offer accommodation, practical support and the wellbeing resources that the people we work with need to get back on their feet.
Across Teesside, we offer two different services.
- Nightstop provides emergency accommodation to homeless young people in the home of local volunteers. Nightstop volunteer hosts open their homes to young homeless people facing a night on the streets or sleeping in an unsafe place. Volunteer drivers and chaperones ensure these young people get to a place of safety. It is a unique project which relies on community hosting to provide a safe, welcoming place for young homeless people in crisis.
- Positive Pathways is a homelessness prevention programme in Middlesbrough, specifically designed to help people with experience of homelessness move forward in life, focusing on developing a broad range of life skills. They run a drop-in service offering one to one support to people, over 18 years old, around different issues: homelessness, substance and alcohol misuse, loneliness, isolation and wellbeing.
You can find more information about our services here: www.depaul.org.uk
WHY OUR WORK MATTERS:
We have been able to support people like Ellen. 
Ellen, 23, sold off her belongings, trying to make the money to escape an abusive family home. After struggling to afford private accommodation and resorting to sex work, she was directed to Depaul UK's Nightstop service. There, with a host family, she rediscovered her love of music before finding more stable accommodation in a Depaul UK property. She now hopes to save the money to join her girlfriend in the USA.
"I was living with my mum, my stepdad and my brother. There was a lot of stress. I didn't know that my mother had been coming off her antidepressants. I wasn't allowed to leave my room. I was told to stay away from my stepdad and the family dogs.
"My girlfriend had been staying with us. She lives in America and, in the run up to her having to go home, my family became increasingly volatile. During that time there'd been a lot of arguments and she was scared to leave my room, but didn't admit it at the time. I wasn't taking my girlfriend leaving very well. I hadn't slept and I couldn't stop crying. After she went through the airport gate, I was upset and called my mother but she was very nasty, very aggressive. She told me to sell everything I have and follow my girlfriend to the USA because she just wanted me gone.
"The week after my girlfriend left, my mum was just screaming. She blamed me for her marriage to my father dissolving and for her current marriage failing. She went to her room, barricaded the door and attempted suicide. I had to go up and intervene. A few days later, my mother and stepdad threatened to call the police on me if I didn't leave.
"I didn't have anywhere that I could go. I lost a lot of my friends. I sold off everything I had that wasn't books or clothing. The McDonald's I was working at gave me a shift a week. It wasn't paying anything. So I ended up posting ads online [selling sex]. It led to interactions with two people who ended up damaging me. I had to shove it down and pretend it hadn't happened. I couldn't tell my family. I couldn't tell my girlfriend. At work the next day I couldn't hide the bruises. I knew everybody knew why they were there.
"I went to the housing office and someone actually walked me down to Depaul UK. I was placed in Nightstop [Depaul UK's emergency accommodation service, where young people at risk of homelessness are placed with specially-trained, volunteer hosts] for about two or three weeks. They were nice people and their son was a musician, who encouraged me to practise the guitar. It started to help me with my problems.
"I moved into a one-bedroom flat with Depaul UK. I'm applying for housing through the council and it's just a matter of waiting. I have to claim benefits and take some time to sort myself out. I didn't want to lose my independence, but I couldn't go back to McDonald's, so I'm on benefits. I'm in a pre-therapy group with four sessions, then more therapy afterwards and I've been getting better at playing guitar. It's becoming a coping mechanism.
"I've been living in Depaul UK accommodation about a year now. I'm going to miss it when I leave."
OUR VALUES:
https://uk.depaulcharity.org/about-us/our-values
OUR AWARDS:
Queen's Award for Voluntary Service
Civic Community Award - Health and Wellbeing. Highly commended
Our Opportunities